Investor Relations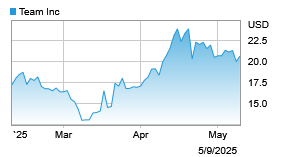 TEAM, Inc. (NYSE:TISI) is a leading provider of fully-integrated, customized solutions of specialty industrial services, including inspection and assessment, required in maintaining and installing high- temperature and high-pressure piping systems and vessels that are utilized extensively in the refining, petrochemical, power, pipeline and other heavy industries.
As a leader in this highly fragmented industry, we are enhancing our value proposition by developing fully-digitized processes for customers that are looking to consolidate their purchases with fewer, larger, and more sophisticated service providers.
Our team of 7,300+ highly trained and experienced employees offers these services across 220 locations in more than 20 countries worldwide.